8bits4ever just announced their new MSX2+ FPGA clone system, and you won't believe how much it costs!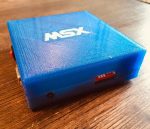 8bits4ever, the famed retro computer hardware developer from Europe has done it again with another fantastic product at a really affordable price point. Famous on the MSX scene by their Carnivore cartridges, 8bits4ever just announced the SX-1 Mini, a MSX2+ FPGA system for the MSX aficionados (like me!).
We've purchase their MSX products before and we are absolutely pleased with the quality and reliability of their products, and we strongly recommend 8bits4ever for anyone looking into the MSX platform as a hobby (like me!). With original MSX, MSX2 and MSX2+ systems from the 80's and 90's getting into unbelievable prices everywhere, you can pre-order this beauty right now at 8bits4ever official website for a fraction of the cost of an used machine that will honestly lack reliability in the long term.
This is what their website says:
"The SX-1 Mini is a cost reduced MSX FPGA compatible 100% with the MSX2+ standard. It features VGA/RGB/Composite video output, stereo audio output, PS/2 keyboard input, 1 DB9 joystick ports, SD card slot and 2 cartridge slots (via external caddy). The unit has a small form factor, about 100×100 mm, and it comes in a 3D printed case.
Internally, the SX-1 mini also features SCC+ sound, FM sound, 2 or 4 MB RAM mapper, and turbo mode (5,37mhz/8,06mhz). The external cartridge caddy allows the use of any MSX compatible cartridges. Each slot can be also configured as internal MegaSCC+.
You can connect any PS/2 keyboard and MSX compatible joysticks (DB9). The unit also includes a SD slot that can be used as mass storage device through BASIC or MSXDOS command line."
The product is in preorder status, at a special price of 95€+shipping. 8bits4ever will start shipping preorder units by middle October 2019.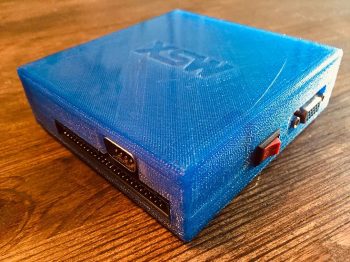 Here are the Tech Specs:
– Altera Cyclone EP1C12Q240C8N FPGA
– 32Mb SRAM
– 2x standard MSX Cartridge Slot Connectors (via external caddy)
– 1x microSD Card Slot
– D-Sub 15 VGA/RGB video output w/scanlines generator.
– RCA composite video output
– 3.5mm jack stereo audio output
– PS2 Keyboard port
– 1 DB9 joysticks ports
– fully assembled in a 3D printed case
According to their website, the unit Requires 5v/2amp DC power supply (not included). Also, the 3D printed cases might show imperfections due to the nature of 3D printing itself. Also, if you want to use cartridges with the unit (honestly there is very little reason why with such powerful features, but it's your life afterall!), remember you'll have to purchase an External Cartridge Caddy, that is sold separately at the cost of €30.
In our opinion, this is a great deal for only 95.00 Euros! Even though the 3D printing case looks a bit drab and might have imperfections, the board itself is perfect for home-made vintage computing projects, like the ones the Raspberry Pi community does! If you are not willing to mess with complicated projects like those, the case does the job perfectly and efficiently, despite it's looks, it seems.
Nothing prevents you to develop your own case, or even to find a way to stick this into an original MSX computer shell and create your own exclusive MSX2+ computer out of this likely reliable FPGA MSX system.
If you want to pre-order the SX-1 Mini from 8bits4ever, click here. It's a bargain at $95 European Buckaroos! We are looking forward to get our hands in one of these units so we can post a full review right here at Videogames Classics with our impressions and how it does compare to our own Panasonic MSX2+ system we have in the office (poor Panasonic!).
Note: We are not in any way sponsored or paid by our opinion on this product, or to talk about it. We have purchased and tried 8bits4ever products before and they are legit and of great quality, so we recommend them by experience. Nuff said!
Tags: FPGA, MSX, Vintage Computing