The Disastrous Cyberpunk 2077 Launch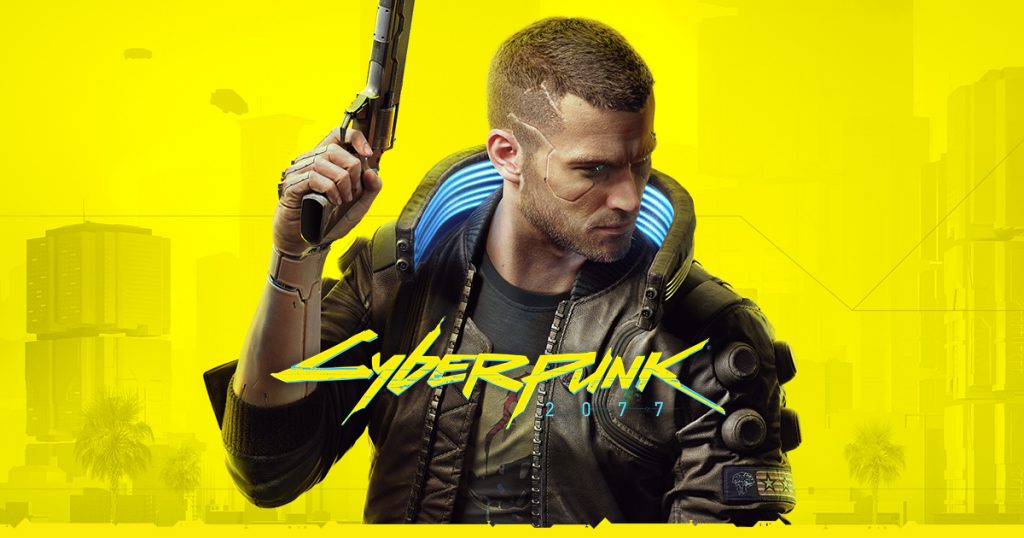 Cyberpunk 2077 was supposed to be one of the best games of all time, instead, it has turned into a living nightmare for its developers and a huge disappointment for the game's and CD Projekt Red's fans.
CD Projekt released Cyberpunk 2077 for PlayStation 4, Stadia, Windows, and Xbox One on 10 December 2020, with PlayStation 5 and Xbox Series X/S versions planned to follow in 2021. It received praise for its narrative, setting, and graphics, although some of its gameplay elements received mixed responses, to say the least. The game has several issues playing on the PS4 and XBOX One systems, being only acceptable on a powerful PC and, believe it or not, Google's Stadia.
What's Cyberpunk 2077?
If you have been living under a rock and does not know what Cyberpunk 2077 is, the game is a Role-Playing RPG game where its story takes place in Night City, an open world scenario set in the Cyberpunk universe – a role-playing game created by Mike Pondsmith. Players assume the first-person perspective of a customizable character named "V", who can acquire skills in hacking and machinery and can engage in melee and ranged combat.
The game has all the tropes of other open-world offerings on the market, such as Grand Theft Auto V, where you can drive vehicles, enter buildings, interact with other NPC characters and engage in missions to advance the story and your own character skills, however, being a first-person RPG, the game is a lot closer to the Witcher 3: Wild Hunt – the previous CD Projekt Red game – released in 2015, an award-winning open-world RPG that did a lot of things right and helped establish CD Projekt's reputation in the modern videogame market.
And it's with all that goodwill created by The Witcher 3: Wild Hunt, that gamers all across the world anxiously waited for the development of Cyberpunk 2077 since it's announcement in May 2012, with it's first trailer hitting in January 2013, on the twilight of the PlayStation 3 and XBOX 360 consoles and just a few months before the new generation – the one that is ending right now – started.
Immediately fans and gaming journalists speculated, by the quality of the trailers they saw, that the game was in fact going to be released during the PS4 / XBOX One cycle, instead of the PS3 / XBOX 360 one. The game trailer just looked too good for that generation. Another hint in the end of the trailer was that the game would be released "when it was ready", so a few years of development was expected.
In fact, Cyberpunk 2077 would only enter pre-production in 2016, after CD Projekt Red finished The Witcher 3: Wild Hunt – Blood and Wine, an expansion for the original Witcher 3 game. Yes, it went in pre-production almost 4 years after the game was originally announced. Many fans believed the game was already in production since 2013, due to the quality of the teasers released on that year – Apparently people have not learned anything from the Killzone 2 for PS3 E3 appearance in 2005, but this is different story for another time!
Take a look at the Cyberpunk 2077 January 2013 trailer below:
A troubled Development
Cyberpunk 2077 entered pre-production with approximately fifty staff members in 2016. The team was expanded over time, eventually surpassing the size of the team for 2015's The Witcher 3: Wild Hunt. Cyberpunk was an ambitious project from the beginning, and CD Projekt Red knew they would have to literally throw everything into the development of this game, so after the release of The Wild Hunt, the team began to upgrade it's REDengine 3 for the new game.
The company knew they needed to create a living world that had to be a lot more complex than the one seen on the Witcher 3, so quickly the project expanded considerably, with people being hired to work on particular themes such as City Creation and Cinematic Feel.
In March 2018, CD Projekt Red created a new studio in the Wrocław region in Poland to aid the production of the massive RPG. The producers had to make a number of important choices at this time such as the removal of multiplayer features that were decided to be added after the game launched only in single-player mode. Instead of the third-person perspective seen in The Witcher 3, the first-person perspective was chosen to immerse players in the magnificent Cyberpunk world. Also on behalf of immersion, cut scenes and gameplay would be both in first-person to seamlessly blend together.
Most of the development of the game was held under a lot of secrecy, and only what the company wanted the outside world to know, was revealed during the production of the game.
Cyberpunk 2077 won over 100 awards at E3 2018. More elaborate trailers that showed a bit of gameplay started to pop up in 2019. Famed YouTubers claimed to have played the game on E3 2019, and the game was supposedly "fantastic". More awards were given to the game, including "Best of E3" at a number of publications and media outlets, and even IGN gave the game, among other awards, the "Best PS4 Game", "Best XBOX One Game", "Best PC Game" and "Best RPG" prizes.
Keanu Reeves was also revealed to be part of the game as a NPC at the end of the E3 2019 trailer. Fans went crazy over this. Clearly, a lot of hype and excitement was created around the title over the past 2 years.
Cyberpunk 2077 Official E3 2019 Trailer

Even though the trailer above is mostly cinematics that would not be in the final game, since it was told to everyone that the gameplay and cut scenes would all be in first-person, the trailer was a huge success and contributed immensely to the hype, specially due to the appearance of Keanu Reeves in the end.
Everything seemed fine and dandy, with Cyberpunk 2077 being awarded and praised all around and the game faded to be an immediate success and one of the best games of all time. Surely the credits CD Projekt Red accumulated over the years, with both The Witcher series and their online store for digital games, the DRM-free games distributor "GOG Games" under their belt, it really seemed almost impossible that this company could do anything wrong… until delays started.
The game was slated to be released in April 16, 2020, only a few months before the new PS5 and XBOX Series generation of consoles launched. The game was clearly being developed with the PS4, XBOX One and PC in mind, the same way The Witcher 3: Wild Hunt did. Then this date was postponed to September 17, then November 19 and finally the release date would happen on December 10th, 2020.
When the game was delayed and missed the April 16 release date, the consensus in the media and among fans was that this delay was actually a good thing. It would give the developers ample time to polish the game and make an even better game for everyone to enjoy. Again, the company had a lot of credit due to their past successes, so no one thought there was anything wrong going on, while now we know it was actually the opposite that was going on.
It was right after the second delay, in October, that a former CD Projekt Red developer came publicly about the crunch culture within the Studio during development of the game. The story was actually broken by the games journalist Jason Schrier in a tweet on September 29th that despite being working extra hours for many years, developers had to work overtime hours every week to meet the game's launch deadline in November.
The constant delays and the reported crunching culture were leaving fans anxious about the results they would see when the game finally launched. Then in November, CDPR requested just a few more weeks to have the game wrapped up and ready for launch. Developers were even quoted saying that, even though the game was being developed for PC, PS4 and XBOX One, it ran "Surprisingly well" on the next generation of consoles. Many fans were furious, but everyone was required to wait a few extra weeks in order to put their hands on the game and see it in action.
Then December 10th 2020 came. The game is out at player's and reviewer's hands, and it was a disaster for CD Projekt Red.
Cyberpunk 2077 is Probably the worse launch for a Triple-A Game in gaming history
It seemed almost impossible that after the disastrous launch for No Man's Sky in August 2016 – also a great story for another hour – there would not be another launch like that in the foreseeable future. But then we got Fallout '76 by Bethesda Studios and Anthem by Bioware/EA, and now Cyberpunk 2077.
No Man's Sky was being developed by an indie developer with no experience with Triple-A games, and they have worked hard the past few years to make No Man's Sky actually a good game that everyone should try, but the break that Hello Games (developer of No Man's Sky) is enjoying now for their patch work of their game for the past 4 years, maybe passed on the wrong message to other developers: Get the game out now, then fix it later. Fallout '76 and Anthem tried that and failed, but mostly because their games were essentially online multiplayer games, instead of solo experiences such as No Man's Sky (to a certain extent) and Cyberpunk 2077.
The fact is that Cyberpunk 2077 is a single-player experience, and it's an unplayable mess beyond what anyone could predict. I believe no one believed the game would perform like it does right now.
The PlayStation 4 and XBOX One versions are essentially broken. It plays better on the PC, but it still has enough game-breaking bugs or bugs that take you out of the immersion that the developer's promised.
A few of the bugs include: NPCs don't behave "intelligently" as promised. Police officers spawn out of the nowhere and start shooting you. Textures pop everywhere and sometimes they don't even load fast enough, making the graphics look like PS2 graphics. Vehicles and characters blend into buildings, vehicles flip on the air out of the nowhere, NPCs have no face expressions, the game slows down to a crawl running sometimes at 5 frames per second… until it crashes.
Those are just a few of the bugs we saw and other Youtubers and streamers saw as well. Some of these moments were "caught on tape" and we can enjoy them below:
10 Minutes of Hilarious Cyberpunk 2077 Bugs and Glitches

More Bugs and Glitches From Gamespot

Bug and Glitches on the PC Version

It is clear this game was not finished when it launched. Being a game developed exclusively for the PS4 and XBOX One, it makes no sense that a game could be launched in this state. It is incredible how this game could pass both Microsoft's and Sony's certification process, and one hypothesis that was vented online is that during the certification process, the game had plenty of bugs and glitches, but CDPR promised to release a day one patch that would fix everything. A patch was released, but it did not fixed much.
Other gaming professionals, specially indie developers, have described how the Sony certification process works, and that both Sony and Microsoft always scrutinize the entire game and wanted frame drops and other details fixed before a game is published. Others said the process actually only focus on system breaking bugs. If the game plays at any state and it does not brick the system or something similar, the game passes. The certification process will not evaluate the quality of the game, like we were lead to believe all these years.
What seems clear is that CD Projekt Red lied to everyone: Sony, Microsoft, you, me and the entire industry, and the outrage regarding this game right now cannot be understated. The game sold spectacularly well before and during this first week of launch. Steam sales alone reportedly paid for the entire development of the game, but it does not detract from the fact that what gamers have on their hands is an unplayable mess. It's almost unbelievable that this game was put out by the same people that developed The Witcher 3: Wild Hunt.
What's next for Cyberpunk 2077 and CD Projekt Red?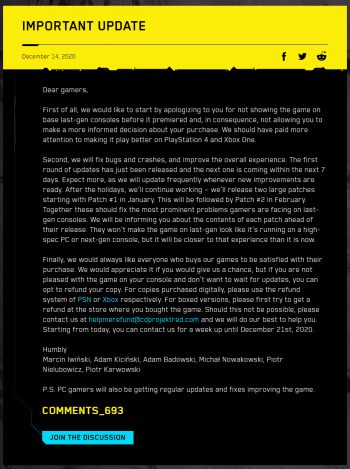 Gamers are not happy. What was promised was a seamless futuristic first-person RPG with a fantastic open-world where you can do whatever you want and with many viable paths to enjoy the story. What we've got was a complete unplayable mess. CD Projekt Red was quick to respond to gamers that they would be issuing funds to anyone that wanted them, but then Sony was even quicker in making it clear that they would not issue any refunds to anyone that installed the game, following their refund policy.
Today however, Sony backtracked and pulled the game down from their digital store and started to issue refunds to everyone. This is huge and unprecedented. A triple-A game being taken down from PSN indefinitely after its launch, and refunds being processed across the board. Sony must not be happy with CDPR right now.
Cyberpunk 2077 is one of the most anticipated games of all time, and the #1 release of the year. And it was not ready. CD Projekt Red should have waited one more year, even two more years and maybe made it a PS5 / XBOX Series game, not releasing it on the PS4 or the XBOX One. It would have made a lot of people mad, but it would have made the game better and a lot more sense at the end.
This is truly one of the worst moments in videogaming of all time, and now CDPR will have to do the nearly impossible to make this game work. We are in a strange time right now where you can still find physical copies in stores, but digital versions were pulled from PSN and XBOX Live. You can get it on Steam, Epic Games store, and of course, GOG to play on your PC, but the game is still buggy and pretty much unplayable.
CD Projekt Red will have to get back to this game and definitely make it not only work, but also have the features that were promised originally and are not present on the final product, specially the A.I. that is absolutely ridiculous on this game. Even that might not be enough to restore the company's reputation. A game that has been hyped since the PS3 / XBOX 360 era finally came out, and it was not ready.
To make matters worse for them, CDPR blindsided all of their customers, by not allowing reviewers to talk about the game before launch in a very suspicious embargo. The company managed to make everyone angry, even Sony that now has to deal with refunds for a broken game that should have never been released on this state.
CD Projekt Red wasted all their impeccable reputation on this game. It's hard to understand what they were thinking when they allowed this game to be sold, but that fact is that it is out and it's bad. We were excited about this game as well, and we hope it can be fixed. Two huge patches were promised for January and February, that would fix the game entirely for the previous generation of consoles. Let's see. We will update this story with any developments from CD Projekt Red, Sony or Microsoft. Make sure you tell us what you think about this situation on the comments section below.