Get Ready for the Super Mario Encyclopedia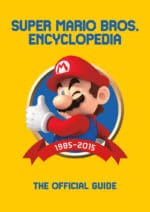 Have you had the opportunity to snag one of those "The Legend of Zelda" reference books? Dark Horse publishing seems to be pretty happy with the success that the Zelda's reference guide achieved and decided to invest on a Mario guide as well, focusing on three decades of Nintendo gaming on the Super Mario Encyclopedia.
The Super Mario Encyclopedia is an exhaustive look at nearly every Super Mario game Nintendo's made, from Super Mario Bros. in 1985 to 2015's Super Mario 3D World.
However, if you would like to see Super Mario Odyssey on the book, you are out of luck. Apparently it missed the cut-off date for the publication and the game will not be featured on the Encyclopedia this time around. Maybe on a second edition, if it ever comes out, might include this latest installment of the charismatic Italian plumber's adventures.
Expect an extremely detailed and fairly beefy encyclopedia, with descriptions of enemies, level layouts, tricks and glitches, and guides for finding all the collectibles like coins, stars, suns or mushrooms. It's 256 pages of all the Mario stuff, an absolute delight that will keep every Mario fan entertained for hours and as happy as when they were kids and got their NES during Xmas in 1985, with a Super Mario Bros cartridge!
The standard edition of the book will be released on October 23, with a retail price of $39.99. No word on a fancy collector's edition yet, but Dark Horse always does the fancy collector's editions. Maybe we'll get something to match the NES cartridge-looking Legend of Zelda Encyclopedia? That would be lovely, and look great on your shelf!
The Super Mario Encyclopedia will be released on October, 23, 2018, and you can Pre-order the Super Mario Encyclopedia at Amazon right now, just click here! Right now, Amazon has a nice discount if you pre-order, so you can get it for $28.59 instead of $39.99. Don't miss this opportunity!