Super Mario Encyclopedia Update: The Limited Edition Surprise Covers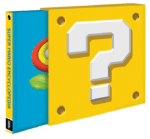 This is just a quick update. If you want to know more about the Super Mario Encyclopedia, make sure you read our full article about it right here.
Anyways, we have an update on the Limited Edition of the Encyclopedia that will make Mario fans rejoice! The $80 limited edition of the Super Mario Encyclopedia will come in a surprise block slipcase with an actual surprise inside: There are four different holofoil covers
(Super Mushroom, Fire Flower, Super Star, or 1-Up) and there's no way of telling which one's inside before purchase. How cool is that?
Even though we don't have a preference over any of the four designs, it makes the Limited Edition of the book even more collectible than before! We bet there will be a number of crazy collectors getting more than one, so they can just get a different design.
In another piece of great news concerning the Limited Edition, Amazon is offering it right now at a discount. As of today, you can pre-order the Limited Edition for only $67.17. A nice discount from the original $79.99 MSRP price! Just click here and you'll be taken to the Amazon page with the book where you can place your pre-order.