You can get Data East Classic Collection SNES Cartridge on Amazon at a discount now!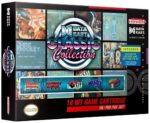 Amazon is discounting (for now) the "Data East Classic Collection SNES Cartridge from Retro-Bit. You can save 15% and get this highly collectible cartridge for only $29.62. Click here to see it on Amazon.
The Data East Classic Collection Cartridge for the SNES is a cartridge issued last year by Retro-Bit and can be used on any SNES system, whether original or clone SNES systems.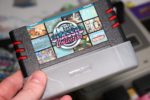 The games included are "Fighter's History Mizoguchi", "Magical Drop", "Magical Drop 2" and "Super Side Pocket". The beautifully designed box also comes with Includes two exclusive 1″ pins with Fighter's history and magical drop artwork; two original stickers with magical drop and Super side pocket artwork; collectible retail box, protective dust cover, and Full Color instruction manual. Everything officially Licensed by Data East.
Our bet is that at these prices, these cartridges will fly off of Amazon, so go grab it now!