Multicore 2 Plus
Victor Trucco, the same mind behind TBBlue / ZX Spectrum Next, and the electronics genius behind many other similar projects, such as an MSX2+ FPGA clone SM-X and a few other very interesting projects in the past, jumped into a new project right after TBBlue, to develop an affordable multi-core FPGA system that would be similar to the MiSTer in terms of functionality, but affordable to members of the Brazilian retro gaming scene that would not be able to import all the parts to build a MiSTer, but still experience some of the same features on an original FPGA device.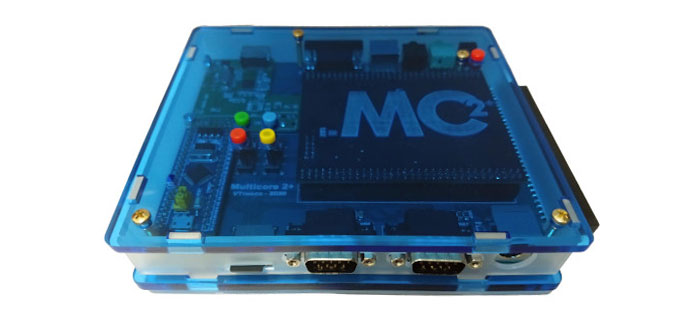 With the experience gained with the ZX Spectrum Next and the MSX2+ clones, Victor wanted a FPGA device that could run all 8-bit and 16-bit systems, including arcades, so in 2016, he came up with his first multi-system core-based FPGA unit: Multicore. The idea was to have "cores" that could be developed not only by himself and but also by anyone that wishes to contribute to the project, making it truly open-source, in the same vein as projects like the MiSTer.
The project took off in Brazil and was crowdfunded locally with many people backing it and purchasing units from Victor. Quickly it evolved into the Multicore 2 and now, to the Multicore 2+, that was backed by a number of Brazilians, including myself, that wanted to experience a great FPGA system that is able to run several different "cores".
Having missed both ZX Spectrum Next campaigns, I was glad to be able to hop on this one on the exact time, and received my unit right after Xmas 2020, and I must say, that even though there's only about 100 cores available at the moment for the unit, there's a lot more to come, as new cores are being ported from both the older Multicore systems, and also from MiSTer.
Now, is it the same as the MiSTer? No it is not. Their functionality is similar, however both units have its vantages and disadvantages.
One of the big advantages that the Multicore 2+ has, the way I see it, is that the unit comes fully assembled and ready to go, including some extra features that the MiSTer does not have, even on it's most "complete" setup, such as a GPIO slot on the side that will allow for expansions that are not planned, or are not possible on the MiSTer, such as cartridge slots.
I was told that the community voted in which slots would be available first for the unit, and it seems that Atari 2600 and ColecoVision slots for the Multicore 2+ are on the works. That's a feature that the MiSTer will never have, at least not anytime soon. Now, MiSTer has support for USB peripherals such as controllers, keyboards and mice, and the Multicore 2+ does not. It will only support controllers with the DB9 connector, and PS/2 keyboards and mice.
All in all, what is already available for the Multicore 2+, makes it a serious contender on the "FPGA Battles" against other similar systems. From what I tested so far, it can be a perfect MSX2+ computer through the SM-X Core, or a Commodore Amiga, SEGA Genesis, SEGA Master System and a number of arcade machines that work perfectly, such as "Galaga", one of my favorites! However, that is not all, there are a number of cores being ported almost daily, and you can find them all on their Gitlab Bitstream. Make sure you take a look there and see what's available now.
Multicore 2+ Specifications
– Altera Cyclone IV 55K LEs FPGA
– STM32
– SRAM: 2048kb
– SDRAM: 256Mb
– Video: VGA and HDMI
– Audio: Stereo output through audio jack or HDMI
– Cassette Interface: EAR and MIC (allow you yo load Amstrad, C64, MSX and ZX Spectrum cassette games)
– Keyboard: PS/2 Port
– Mouse: PS/2 Port
– Joystick: 2 DB9 Ports
– GPIO: 60 Pins Expansion Slot
– Storage: microSD slot
– Acrylic case included in either blue or clear colors
– Power Switch included
– 4 Buttons
– Power Supply: 5V 2A
The DB9 ports accept SEGA Genesis 3 button and 6 button controllers, as well as the 8Bitdo M30 2.4Gz controller. Atari 2600 controllers will also work fine. The port does not accept any MSX game pads and those will damage the Multicore 2+.
Resources
– Multicore Bitstream on Gitlab – Download cores for all Multicore units
– Victor Trucco's Patreon
– Victor Trucco's Website
– Victor Trucco's YouTube Channel
Multicore 2+

Manufacturer:
Victor Trucco
FPGA Version:
Altera Cyclone IV 55K LEs
Project Type:
Open-source
Systems it Simulates
Arcades, Amiga, C64, Apple II, MSX, PC, ZX Spectrum, ZX81, Atari 2600, Atari 5200, ColecoVision, GameBoy Color, Intellivision, Master System, Genesis, NES, SNES, PC-Engine, Odyssey, Vectrex and more.
Availability:
Available now
Country of Origin:
Brazil
Accessories Included:
5V 2A Power Supply, Acrylic Case
Price:
R$1350 (Brazilian Reais)
Official Website:
victortrucco.com